"A Journey of Wonderful Discoveries"
Gaining knowledge through play and having fun with culture, art, science and gastronomy. This is the main focus of VIK (Very Important Kids), a company that provides its services to families who come on holiday in Italy, organizing activities that are suitable for children and enable them to learn through fun.
The concept behind VIK is that of edutainment (education and entertainment), that is, educating and entertaining children and young adults aged 4-16 during their travels: a super enjoyable journey through history and art!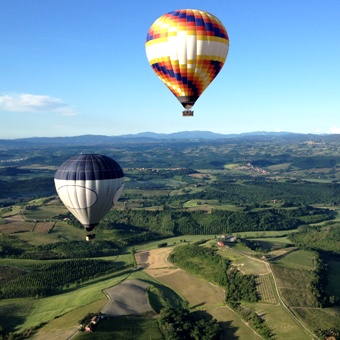 Besides being the name of a Florentine company providing a comprehensive range of services for "young travellers", VIK is also the name of a lovely character: a happy, bespectacled child ready to jump in a balloon and travel the world. VIK features in a series of environmentally friendly gadgets created with recycled materials to ensure maximum quality and environmental sustainability. Curious and attentive, VIK looks at the world like only a kid can do: with wonder.
For each age group, the cultural tours on offer are written in a suitable language. Tales and stories are built around important historical figures that will one day become a part of the memories treasured by our young adventurers, adding to their store of knowledge.
Activities include treasure hunts whose aim is to help kids experience cities through play,  looking for secrets and hidden details that are part of the territory and its history.
Art, pottery and science workshops led by a skilled professional graduated in astrophysics will help children discover the secrets of energy and the mysteries of the cosmos; culinary experiences and days spent in the Tuscan countryside will encourage them to respect the environment and to love nature. These are just some of the activities offered by VIK to accompany young guests and their parents during their ideal holidays ideals, where all will create and collect unforgettable memories that will last a lifetime.
VIK was co-founded by two mothers who love art and travelling, and whose approach is based on the fundamental tenets of Montessori's and Steiner's theories, i.e., a world of rules suitable for children that nurture their independence, creativity and artistic abilities.
Sharing a passion for psychopedagogy, Barbara Lo Giudice – who has a background in communications and events for a range of multinational advertising agencies – and  Lina Martinez – who has ten years of experience in education and a U.S. degree in art history – joined forces to build a reality in which children can have the opportunity to become the main characters of their story.
They now give shape to that reality with the support of Max Battaglia, VIK's creative director, and the rest of their team, which includes: certified multilingual guides; internationally trained nannies, carefully selected for their skills and personalities; and, finally, trusted, carefully chosen drivers. To sum up, VIK aims to organize unforgettable excursions and activities and to accompany kids on a journey of wonderful discoveries.
Info: barbara@vikadventures.com